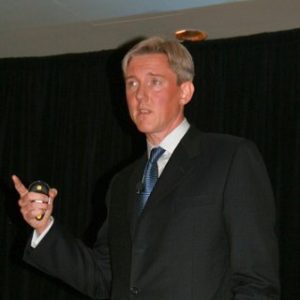 Spectrum Leap is owned and led by Kevin Hooper, an innovative, strategic and operational general management executive. Kevin is well known in the IT industry as "the go-to-guy" to help businesses or all sizes get through a weak period or two. Spectrum Leap is able to offer worldwide advice and counsel via sales management of business in all sizes in the US, EMEA, AP and Emerging Markets in Asia and Eastern Europe. Spectrum Leap has proven experience of more than 25 years in sales, sales management, marketing, business development product development and P & L management, Spectrum Leap is a valuable consulting partner to sales organization looking to provide IT solutions to companies designed to solve tactical and strategic business issues.
Spectrum Leap Consulting Specialties
Sales Management
Strategy
Marketing
Business Development
Business Unit Management
Full P&L Management
Revenue and Profit Growth
International Sales
Emerging Markets
Public Speaking
Consulting and Advising businesses on growth.
Spectrum Leap Management Achievements
Double digit improvement in topline revenues due to sales strategy improvements
40% improvement in profitability
>175 Net New customers added
50% reductions in losses
25%+ reduction in costs
Successfully implemented strategies for turnaround and transformations
Successful Employee and Executive Mentorship resulting in promotions and performance improvement.
Spectrum Leap Detailed Executive History
WW and Country-level General Management/P&L experience delivering sustained growth, and consistent business management, including but not limited to territory management methodologies, incentive and compensation design, sales cadence management, deal-making/discounting and inside sales, demand generation programs development, events management, distribution channel management, and lead management
Product Portfolio management: Profit profile optimization, product management, solution management and new solution launch, reseller/alliance relationships, service product development and Cloud.
Development and management of WW/Country level channel strategies and management for engaging influencer channels (SI and ISV), volume and value added resellers,focusing on demand generation, sales enablement and joint sales engagement
Spectrum Leap Executive Leadership Past Positions
Oracle Corporation: Vice President Business Intelligence/Analytics
NEC Corporation of America: Executive Vice President, Enterprise Business Unit, Senior Vice President and General Manager: Enterprise Solutions and Information Technology/Network Services, Senior Vice President: Enterprise Platform Solutions
Hewlett Packard Company:Vice President and General Manager Americas HP Networking,Vice President and General Manager US Emerging Growth Accounts, Enterprise Servers, Storage and Networking (11/09-1/12), Vice President US Commercial Business, Technology Solutions Group (11/07-11/09)
IBM Corp:Vice President WW Business Partner Strategy, Director WW Global Technology Services Channel Marketing and Enablement,Director WW SWG SMB Sales and Business Development, Director WW Websphere SMB and Channel Sales, Global Business Area Marketing Executive Computer Services Industry,WW Program Director CRM Channels and Offerings, Worldwide Solutions Executive: Customer Relationship Management, Worldwide Solutions Executive: Business Intelligence
ACG Inc: Director Midwest Region
 SPSS Inc:Senior Software Designer 
Sargent & Lundy Engineers: Control & Instrumentation Human Factors Engineer
ABB Combustion Engineering: Senior Human Factors Engineer, Human Factors and Cognitive Engineering
Spectrum Leap Executive Leadership Education
M.S. in Industrial Engineering and Operations Research with concentration in Human Factors Engineering, University of Massachusetts, May 1991.
B.Sc. (HONS) Mathematics and Statistics, University of Sussex, England, July 1988.
Spectrum Leap Examples of Executive Public Speaking
Midsize Enterprise Summit 2011 HP Keynote
Midsize Enterprise Summit 2014 NEC Keynote
12th ETBS Luncheon Keynote Speaker: Kevin Hooper